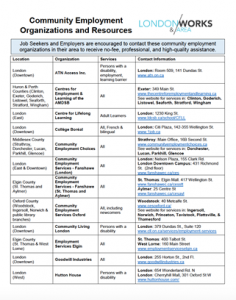 The Job Developers Network (JDN) is a forum for job developers, and those in similar roles, from ESC community employment organizations to meet, discuss, share information and opportunities, problem-solve issues, and strategize solutions that promote collaborative service delivery to job seekers and employers.
The JDN aims to be the first point of contact for both employers with hiring needs across Southwestern Ontario, recognizing that service delivery is more effective through collaboration between employment service providers, rather than competition.
There are currently approximately 80 job developer staff from 20+ organizations who are active JDN members. Click here or the image on the left for a community employment resource list of all the organizations we are associated with.
If your company is recruiting, hiring, and/or seeking training supports for your current and potential employees, contact any one of our members for professional, no-fee service.