Coming soon: Labour Market Information: A Common Approach Training
We will schedule based on interest, so please contact carol@esc.network to put your name on the wait list.
Latest ESC News and Events
A once-a-month opportunity to connect over dinner and a drink, then listen to an engaging speaker. Because de-stressing is better with friends. This Month's speaker is Tanaz Javan on Meditation and Mental Wellbeing. We will be at The Wortley Roadhouse and registration is free. Contact us for the password to register.
The Local Jobs Hub is a tool located on the workforce development website that connects job seekers to employers, skill building and training in the region. The Local Jobs Hub has multiple tools to help job seekers. To find out more, watch the how-to-use video, download the brochure or read the FAQ.
Latest Member News and Events
Take Part in…A day of job shadowing to help increase experience in 'real life' knowledge, responsibility and focus.
The Rainbow Optimist Club presents LGBT2Q+ Terminology & Language at the Pathways Skill Development Centre.
Please join us in welcoming N'Amerind Friendship Centre to the ESC Network. N'Amerind offers a remarkable array of programming and resources for Indigenous People of London and surrounding area.
You are invited to attend one of our 90 minute workshops at 431 Richmond + a complementary Lunch at The Chef's Table. Space is limited to the first 25 RSVP's on each date: 10:00 am start on each of the dates; Oct 17, Oct 24th, 2019 
Job Resources and workshops
The City of London is always hiring. Take the time to check their site for what jobs are posted. This site gets updated regularly.
London Training Centre provides these programs to help you learn how to identify your strengths, develop new skills and effectively look for employment.
Middlesex County has a diverse economy including a strong foundation in agriculture, agrifood and manufacturing, along with growing retail, construction, logistics and service sectors.
Work in Oxford serves employers, volunteers and job seekers throughout all of Oxford County. Employers can post job & volunteer opportunities countywide and volunteers & job seekers can browse from Oxford County's single source job bank.
Subscribe our newsletter to stay updated.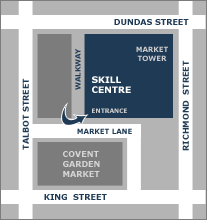 141 Dundas Street, 4th Floor, London ON N6A 1G3 (entrance on Market Lane)
Phone: 519.663.0774 ext. 224
Fax: 519.663.5377
Email: carol@esc.network